SURF RENTAL:
exclusive rental longboards & surfboard guide
If you want to jump into the waves on your own, you can rent all the surf equipment you need for a perfect surf day from us. In addition to softtops, hardtops, and longboards in all imaginable shapes and sizes, you can also rent the matching wetsuit from us.
We will be happy to advise you on this!
SURF Niveau
If you are not sure of your surfing level, the following overview may be helpful. Although there are different concepts for determining your surfing level, you can use these requirements to find the right rental surfboard:
Surflevel
Skills

You should definitely go for a softboard!

You have never surfed

You've always been in white water
and still need to practice your take-off

Softboard is the best choice!

You stand your take-off safely.

You can already paddle into the line-up
and stand green wave take-offs.

Softboards best choice for surf holidays up to one week.

You move confidently in the water and know
how to position yourself in the lineup.

You can already surf green waves parallel to the side
and try your first bottom turn.

Get inspired by our hardtops.

You already have a lot of experience and time in the water.
You have complete control of your board.
Top or bottom turn is part of your
repertoire.
SURFBOARDS for beginners
The basic rule for newbies is:Go big and go soft! You should never choose a surfboard that is too small, because a larger board with a lot of volume gives you more buoyancy and stability in the water. Beginners usually lack the necessary paddling power and a board with a lot of buoyancy helps enormously to compensate for this shortcoming. You get faster and more waves and subsequently more opportunities to practice.
In addition to the paddle power, the board feeling of newcomers is usually not particularly well-developed. This is where you benefit from the stability that a surfboard with a large contact surface offers. You can position yourself on the board more easily without losing your balance and it will be more forgiving of mistakes. The large contact surface is not only influenced by the size of the surfboard, but also by its shape, which is why a Malibu shape with a wide, round nose is ideal for beginners. We have the largest selection of this surf shape for you in our surf school on site.
Of course, height and weight also play a role in the length of the board. In principle, you should add at least 30 cm to your height, then you have the approximate board length that you need as a beginner.
The length of the surfboards is given in feet and inches: 1 foot = 30.48 cm, 1 inch = 2.54 cm.
-To avoid endangering yourself and other surfers in the water, you should definitely use a softboard at the beginning.
SURFBOARDS for advanced learners
Even advanced surfers can have a lot of fun with a softboard, as they offer a lot of buoyancy and you can get a lot of waves. Just take a smaller model, you'll be amazed at how manoeuvrable these things are. They are now available in all shapes and sizes on the market.
If you prefer to switch to a hardtop or continue surfing with it, there are several options.
The most common surfboards have either a core of polyurethane (PU) foam laminated with fibreglass mats and polyester resin, or a core of expanded polysterene foam (EPS) laminated with epoxy resin. Many boards also combine these materials in different combinations.
Polyester boards have excellent riding characteristics and are usually a little cheaper than epoxy boards, but they are very sensitive to impact and easily dented. Once the resin layer is broken, the board needs to be repaired immediately, otherwise the core will pull water and the board will become heavier and heavier.
Epoxy boards, on the other hand, are much more resistant and not so easy to break. Due to their light EPS core, they still have similar good riding characteristics as polyester boards.
In addition, there are of course other variants such as surfboards made of balsa wood, which are particularly complex to manufacture and therefore significantly more expensive.
Consider 5 factors for length and shape:
Physical conditions (weight, height and fitness)

Daytime conditions (swell, wind, etc.)
LONGBOARD SURF RENTAL
As easy and relaxed as it may look, longboard surfing is unfortunately not suitable for bleeding beginners. Due to their size and high volume, longboards offer a lot of stability and buoyancy but are significantly more difficult to maneuver than smaller surfboards (e.g. malibus). As a rule, they are at least 9 feet long (approx. 3m) and thus a real projectile in the water that needs to be handled! If you don't have any surfing experience, we recommend a surfing course or longboard private lessons.
Thanks to their large volume, longboards function in very small waves, but can also be surfed in larger waves. This makes the wave selection much bigger and you no longer have to fight for a spot at the peak in crowded lineups.
Their high stability in the water makes longboard surfboards (DE) a real playground where you can run back and forth, dance on the waves and try out a stunt or two.
There are no limits to your creativity. You can stand, lie down, kneel, and even surf in a headstand – the main thing is that it's fun!
OUR rental SOFTTOPS
Until you have absolute control of your board, you should opt for a soft top. These special surfboards, like the surfboards of advanced surfers, are now glassed with epoxy, giving an authentic surf feel. A layer of soft foam has been added to absorb shock and protect you (and other surfers!) from injury. Flexible fins also increase safety.
Besides the lower risk of injury, soft tops have the big advantage that they offer a lot of buoyancy, which makes paddling the wave much easier and you get a lot of waves. Softtops are no longer just surfboards for beginners. Even professional surfers use their advantages to have maximum fun even in small waves.
We have soft tops in all sizes ready for you!
OUR RENTAL HARDTOPS
You should only use a hardtop when you really have control of your board and know how to protect yourself and other surfers from collisions.
Our hardtops from NSP are made of polyester and have an additional sheathing of hard plastic, which makes them especially shock-resistant. The risk of damaging it and then having to pay for the repair costs is much lower this way.
We have all the standard shapes like Malibu, Mini-Malibu and Semi Fish in the Quiver, which are particularly suitable for the summer waves of this area: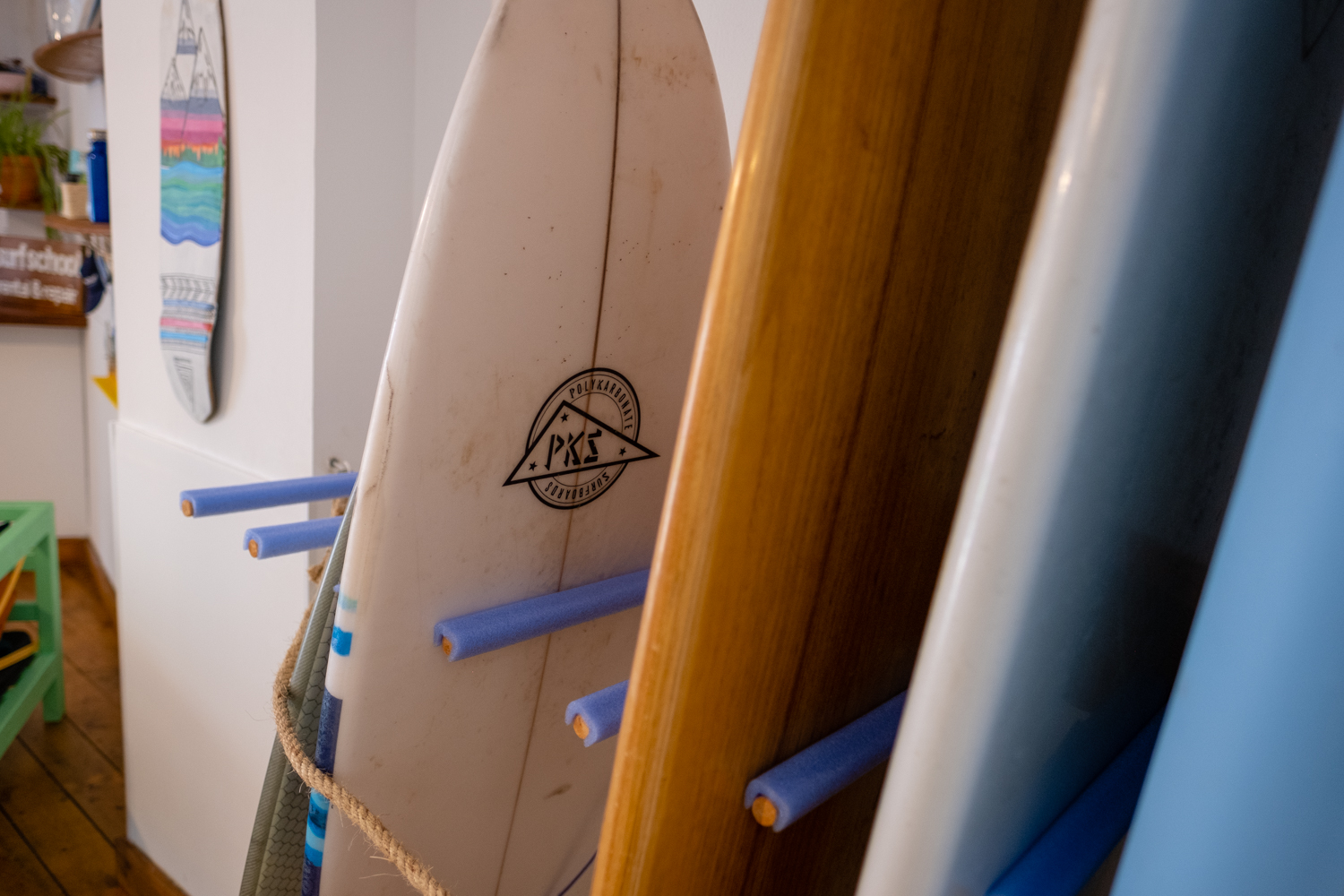 Malibu & Mini-Malibu
Malibus and mini malibus basically only differ in length. Mini malibus are usually between 7'0 and 8'0 feet long and are called malibus from a length of 8'0 feet. The latter are already close to longboards, but still a bit smaller and easier to maneuver.
These models are perfect for beginner surfers, as they are very forgiving and easy to paddle. But advanced surfers also have a lot of fun with them, especially in small waves or when they want to work on their style. Mini Malibus and Malibus offer a lot of buoyancy with their large volume and round nose, which helps enormously when paddling the waves and enables faster planing. This means you get much more waves than with a shortboard, for example.
The round nose and flat rocker (bend up of the nose) give the board extra stability and the round tail enables smooth, round turns. The 3-fin setup gives you a good hold in the wave and doesn't let the board slip away easily.
Mini / Malibus are available from us in many different sizes from 6'8 to 8'6 feet.
Semi Fish
Semi fish surfboards are also particularly suitable for smaller waves. Despite their small size, they have much more volume than shortboards and therefore offer much more buoyancy, which in turn makes paddling easier and increases the wave yield.
Its so-called "swallow tail" has the shape of a fish fin and gives the board a lot of speed and manoeuvrability, while it still offers very good hold in the wave and can therefore also be surfed in steeper waves.
We have Semi Fish boards in the lengths 6'0, 6'4 and 6'6 in our repertoire.
Rental LONGBOARD Surfboards
Whatever your level, we'll guide you on your adventure to the right board to find your longboard style!
Are you curious and would like to try out a longer board? Perfect, we'll be happy to lend you one of our longboard softboards.
The soft top makes it particularly easy for you to get into paddling, supports you when coming into the wave, and forgives you most mistakes.
In addition, a soft top brings a lot of safety with it! If you don't have perfect control of your board yet, it's not a hardened material sailing through the line-up.
The soft top is an excellent companion for learning and growing; it's advisable not to switch to the hard top too early, as this can limit your own progress considerably.
You are confident and -standing up in the line-up, can get off your board in a controlled way without shooting it into the wide open spaces, ride your first turns and do your first cross-steps?
Nice! Then you should try one of our lovingly shaped boards from Longboard with Amigos. They come in three different colors, two different tail variations and three different sizes.
They've been painstakingly developed by longboard experts over many years for hard-top beginners and have all the refinements you need at this stage of your longboarding adventure:
Soft Longboards from Ocean & Earth and Zeus
We offer Single Fin Soft Longboards, either with Squash Tail or Rounded Pin Tail, in lengths  9'0 and 9'4 for rental.
Single Fin Longboards from Longboard with Amigos
Starter Pelican
The Starter Pelican is our classic for longboard beginners (DE), but progressive longboarders will love it too!
With its 60/40 nose-to-tail edge, it gives enormous buoyancy and is extremely forgiving, both when paddling and during take-off.
The Rounded Pin-Tail makes it easy to steer and place in the wave wall, making carving a real pleasure.
The original stripe design clearly marks the middle part of the board for the take-off, the sweet spot for the cross-step as well as the nose for noseriding and in this way helps budding longboarders to position themselves correctly right from the start.
Crossing Pelican
Perfect for anyone who wants to dive into the world of classic longboarding, both beginners and intermediates.
The Crossing Pelican is an all-rounder, as it is suitable for all surf conditions (DE). It supports you with its high stability and is very easy to manoeuvre at the same time. Within the classic longboard range, it also stands out for its low weight, so that getting used to it is very easy and you will have a lot of fun in small waves very quickly.
The classic square tail also offers a lot of stability and is perfect for those who are just starting cross-step or are toying with noseriding.
Just like the Starter model, the stripe design of the Crossing Pelican helps to quickly identify the relevant sections of the longboard while surfing and to achieve quick learning success.
Both models are available in 9'2, 9'4 and 9'6 lengths.
The Longboards with Amigos are also available for purchase at our Longboard Oasis in San Vicente de la Barquera. If after a few days of renting, you decide
that a Longboard with Amigos would be the right companion for the next part of your adventure, we will refund you up to 5 days rental fee!
Feel free to drop by or get in touch so we can best support you on your journey!
Our wetsuits from O'Neill protect you from cold, sun and impact, and give you extra buoyancy in the water. They are regularly renewed and hygienically cleaned with a special cleaner after every rental.
In summer you can rent 3/2 wetsuits in all sizes (children from 6 years) and for colder seasons we also offer 4/3 wetsuits.
Softtops & NSP-Surfboards

| | | | | |
| --- | --- | --- | --- | --- |
| ½  Day | 1 Day | 3 Days | 5 Days | 7 Days |
| 20 € | 25 € | 60 € | 80 € | 99 € |
Wetsuits
| | | | | |
| --- | --- | --- | --- | --- |
| ½  Day | 1 Day | 3 Days | 5 Days | 7 Days |
Surfboard + Wetsuit
| | | | | |
| --- | --- | --- | --- | --- |
| ½  Day | 1 Day | 3 Days | 5 Days | 7 Days |
| 30 € | 40 € | 90 € | 120 € | 149 € |
Soft Longboards
| | | | | |
| --- | --- | --- | --- | --- |
| ½  Day | 1 Day | 3 Days | 5 Days | 7 Days |
| 30 € | 40 € | 90 € | 120 € | 149 € |
SINGLE-FIN Longboards
| | | | | | | |
| --- | --- | --- | --- | --- | --- | --- |
| 1 Day | 2 Days | 3 Days | 4 Days | 5 Days | 6 Days | 7 Days* |
| 35 € | 70 € | 100 € | 125 € | 145 € | 160 € | 170 € |
*From the 8th day only 10,- € will be charged for each additional day.
Surf Rental Stations
For surf rental we currently offer two different meeting points. For full details of our surroundings, ckeck out  Oyambre accommodations & Camping sites though out booking.com or airbnbn.com.
1. San Vicente de la Barquera: elementsurf longboard Surf shop
2. Playa de Oyambre: Surf school & Camp "elementsurf"